The Top 5 Gym-Fads Pissing Us Off in 2015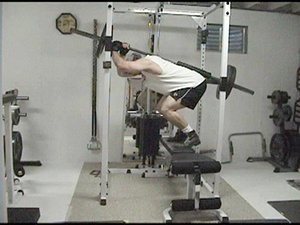 Fads are everywhere, old or new, good or bad, they're always inescapable, and they always suck. Especially in a tightly packed blood circus like the gym.
There you are, trying to deadlift your set for a clean 10, but then you see something 'off' – and you lose your faith in humanity.
You don't want to do your set anymore, hell, you don't want to lift anymore. The last thing you want to be is anywhere close to being associated with this prick.
Whether it's a piece of clothing, or some new fangled way of training someone boasts to their bro – somehow, part of you dies.
Luckily fads fade out, but something else always comes to fill their place – and now here on Fit Chief, we reveal this year's culprits.
1. Spin classes and others like it
Now how you feel about theses classes can go either way. Depending on how your gym is organised it may not be a problem – however, if these classes take place right in the center of your iron home-away-from-home. There's going to be a problem.
Bros who don't wear headphones will know exactly what I'm talking about here.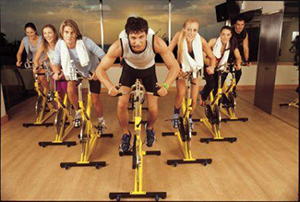 Picture the scene: You're midway through some awesome benchpressing, but you're barely keeping it together. You're dangling by a thread to the promise of gains, the last thing you need is a distraction…
Then enters the Spin Class. Suddenly that gently grunting gym noises you've grown so fond of explodes into music that can only be described as a rave having violent sex with a birthday party. It's loud, it's cheesy, and it ruined my fucking set.
To make things worse, you look over to see what's the commotion – and it's literally a group of people working hard to go nowhere. Pretty much describes every gym class I've ever seen.
2. Training Masks
Nothing quite says, 'I have a lot of money, and I still don't know how to lift' like a training mask at the gym.
Okay, before anyone goes crazy trying to spout the benefits of an elevation training mask – they are distracting as fuark. The last thing I want to see while I'm doing forced reps to finish up a set is fucking Bane looking over my shoulder.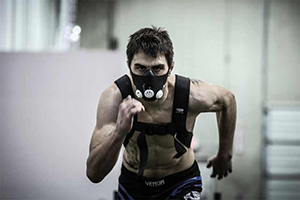 If you're not familiar with it, it's essentially a mask that thins the air that you breathe in – supposedly making your workouts more difficult and increasing your stamina. I've yet to see a bro that really lifts use one.
I've spoken to one of these guys before, and they defended the mask by saying 'It's like training in a suit of armor, and then when you take it off, you're a beast in battle'.
I'll admit, this sounds pretty cool, however a suit of armor weighs 50kg (about 100lbs) – nearly as much as that guy weighed. Whereas training masks don't weigh you down physically, only emotionally with shame.
These masks are also a big distraction in the gym, and the smugness of the assholes wearing them is just unbearable. If you want to take in less oxygen during a gym session – take up smoking.
3. Wearing Hats in the Gym
Not really so much a fad, but more of a red flag when worn by certain individuals indoors.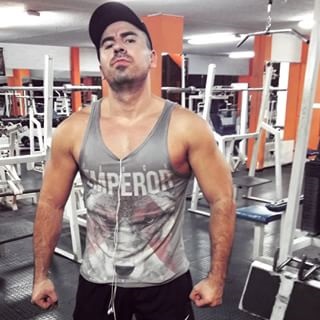 Now we're not hat racists. But we've noticed it's not 'all kinds of folks' that don baseball caps to an indoor gym. It's one type of douche in particular that thinks they're too good for the glow of artificial light.
These are the types of bros who will rip plates off a bar and slam them on the floor for no reason. The guy who will deadlift his max and let it go at the top of the lift, and then proceeds to march around the gym like in the shape of a human croissant to make sure everybody saw.
And don't even get me started on the yelling.
Usually these guys have a pretty wicked beard going on, other times they have a thin line of stubble outlining a jawline. Whatever the case this hair is usually there for a reason – a bald head.
Not that there's anything wrong with being bald, it actually looks pretty badass – it's the cap itself that's the problem. It's a testimony to these guys' insecurities, and a constant reminder that as long as one of these caps floats around your gym – it'll never be a peaceful place of gains again.
4. Phoning it in & Gym 'Selfies'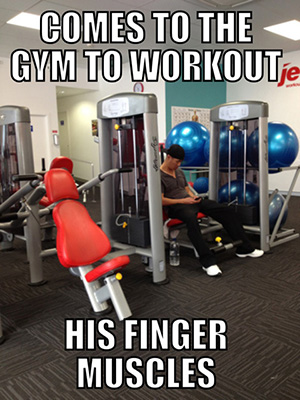 This isn't so much a fad for 2015, but more of a cultural tumor for the entire decade.
Let's get one thing straight. Smartphones, there is a time and a place.
Nothing's more annoying than waiting to use a machine or set of weights for one open-mouthed moron. A guy sitting on his phone, guarding all the equipment and soaking up all the gains.
Hey bro, that girl from the bar doesn't care about a shaky photo of you flexing in the squat rack. And those guys waiting to train legs, really couldn't give a shit if you died by this point. So, why are you still on your phone? Instead of taking photos of barely any gains, why don't you put your phone away and actually make some?
This 'Angry-Birds-Between-Sets' attitude is killing productivity – not just for the people that do it, but also the bros that have to wait for them.
Unfortunately, however I think this type of negative gym culture is here to stay – unless something more annoying than a phone comes into the fray.
5. CrossFit
Last but no least, everyone's favorite: Crossfit.
You only have to watch this video to see exactly what I'm talking about:
It may seem funny, but these guys are seriously annoying.
Prancing around the gym like they're the ones really working out, and we're just some ignorant, primitive bitches. Until they have any one of the kinds of accidents shown above.
Nothing's worse than walking into the gym and seeing one of these clowns performing. Especially if they're next to machine that you want to use – one of two things could happen:
They inevitably fall or break something, distracting you and ruining your entire set
They inevitably fall and break the equipment that you wanted to use next, ruining your session
Either way, when these guys are in the vicinity – the only thing you're going to gain is a headache.
We can't wait for this crappy exercise fad to fade out. The only thing that bothers us, is what will replace it?
Honorable Mention:
Anyone that repeatedly wears a 'Tough Mudder' T shirt to the gym. Nobody cares.
Overall Conclusion
So there you have have it. The current bugbears of the barbell boardroom.
A combination of accessories, technology, vanity and ignorance. Hopefully 2016 won't be as bad, but we can't hold out for much longer. Winter is coming, and with it brings the New Year's Resolution-ers.
OUR #1 TESTOSTERONE BOOSTER FOR BUILDING MUSCLE
Out of all the T-Boosters we've tried – TestoFuel is by far, the most effective for making serious gains.
It has clinically proven ingredients, generous dosages and refuses to hide any of them behind proprietary blends.
See our review right here!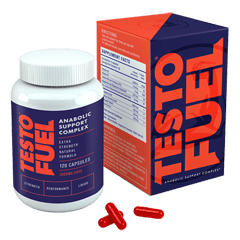 OUR #1 FAT BURNER FOR GETTING ABSOLUTELY SHREDDED